We are about making God Connections

We will help people connect intimately and passionately to the God who loves them and has a plan for their life.
(Worship)

We will help people connect in meaningful, healthy relationships.
(Connect)

We will help people connect in growing in their faith.
(Grow)

We will help people find meaningful ministry.
(Serve)

We will help people connect to the missio dei (mission of God). We will focus on ministering in our sphere of influence and into the world that God loves.
(Go)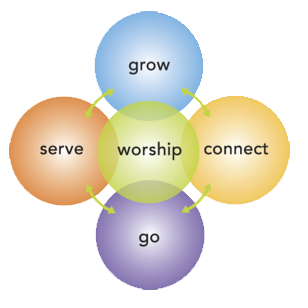 We Value:
Prayer. We will work as if it depends upon us and pray like it depends on God.

The Church (big C). We promote, cheer for, cooperate with and serve all that God is doing in His Church. The local church is the hope of the world.

Relationships. We believe our love for God and His love for us is expressed in our relationships. All ministry flows through relationship.

Diversity. We are thankful for the rich tapestry of God's people. We will honor and celebrate the diversity within us as we grow together.

Creativity. God is a creative God. We will encourage people to express their unique gifting and promote finding fresh ways to honor God.

Risk Taking. We serve a BIG GOD who can do anything. We will have always have the attitude, "What do I have to lose?" We will make mistakes, and these mistakes will be our greatest asset as we learn and grow.

Generosity. We will demonstrate that it is more blessed to give. We will be generous with our time, our talent and our treasure.

Servanthood. Jesus found great joy in serving and through that model we too find great joy in serving. We remember as we serve we are not only ministering to others but building ourselves.

Please click here to view the current constitution and by-laws.